My quail eggs arrived yesterday! They are so tiny and delicate and beautifully spotted.

I thought, for a few hours, that I wasn't going to get them! They were sent via 2-day delivery but without a signature requirement. This means that instead of being dropped at my door, they are dropped in the neighbourhood SuperBox for me to pick up with my key. Unfortunately, we just moved and my key doesn't arrive until Monday.

Canada Post head office said there was nothing they could do...and my eggs would be cooked by Monday! I called my town's small post office to see if there was anything they could do. They took my info and said they'd call me back.

A few hours later my personal postal carrier called me! I explained the nature of the package...and she understood completely! Thank goodness for small town life...they understand eggs. Within minutes she hand delivered them to my door. Thanks Sherry!

Opening the box...how many will be broken or chipped? Where are the eggs?
There they are! So carefully wrapped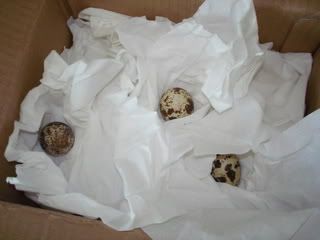 28 in total...I ordered 24, hearing that quite a few of these delicate eggs would probably break before they arrived. But, she packed a few extra...and only 3 were broken! So I have 25 hatchable eggs!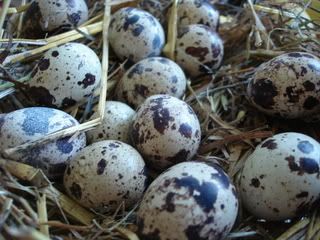 The incubator is downstairs getting up to temperature now! The eggs sat in our cold storage overnight and are ready to go!
Thanks for letting me share!